Service & the Aspirant / Disciple
---
from the Work of Djwhal Khul & Alice A. Bailey:
It is possible for all aspirants and disciples to participate in this effort to the extent of rendering the task of the Masters easier by their clarity of thinking, their renewed spiritual effort, and the rededication of themselves to the task of service. To this effort I call you. (The Externalisation Of The Hierarchy)
"...the meditation process must be accompanied by creative work or else it is purely mystical, and though not futile, is nevertheless negative in creative results." (Discipleship in the New Age, Vol. II)
"...let us go forward in unison with our brothers everywhere, conscious of opportunity, of strength, of responsibility and of the joy of service...Strive to stand in spiritual being. Each morning, in your meditation, seek to take that attitude with a new and fresh definiteness and to hold it during the hours of service which lie ahead each day. This will not be an easy thing to do, but it can be done if you can get quiet enough for five minutes each morning—completely and interiorly quiet—and if you fill your days with vital occupation and true service, guarding with care all thought and speech.

We are now in a period of tremendous spiritual potency and of opportunity to all upon the probationary path and the path of discipleship. It is the hour wherein a clarion call goes forth to man to be of good cheer and of goodwill, for deliverance is on the way. But it is also the hour of danger and of menace for the unwary and the unready, for the ambitious, the ignorant, and for those who selfishly seek the Way and who refuse to tread the path of service with pure motive. (The Externalisation Of The Hierarchy)

Read more from the Work of DK & AAB: http://www.lucistrust.org:8081/obooks/?q=search/node/service&page=1
---
From Helena Roerich & the Agni Yoga material
"Everyone who has understood the fundamentals of evolution has the responsibility to transmit his knowledge to some others. In this, the one who transmits the knowledge, whether he is great or not, is subject to the same law: he must pass his knowledge on without violating the freedom of others..."
Angi Yoga - Signs of Agni Yoga 153
====
Greater context:
153. Everyone who has understood the funda
mentals of evolution has the responsibility to transmit his knowledge to some others. In this, the one who transmits the knowledge, whether he is great or not, is subject to the same law: he must pass his knowledge on without violating the freedom of others. The fundamentals of evolution can be realized only voluntarily, and can be applied in life only through the striving of the awakening spirit.
One must rebuild one's entire life for the new step in evolution. This is impossible for one who is not ready to offer himself in spirit to earthly service. In fact, this offering is of the greatest importance for the completion of one's earthly path. From the most ancient precepts of Vedanta We know of this principle of liberation. Facing this new step of evolution, it is Our duty to repeat again and again about this propelling force.
154. ...One must fulfill one's obligation to Earth by promoting the foundations of evolution. In this way one achieves the highest cooperation with humanity...
~~~

http://agniyoga.org/

(all the Agni Yoga books are online for free)
~~~~~~~~~~~~~~~~~

Sai Baba: Love All, Serve All. Help Ever, Hurt Never.

~~~~~~~~~~~~~~~~~

From: Benjamin Creme


"Many today… see meditation as an end in itself. They see no need for service or outer action to change society for the better; see no outer change being possible without an inner change of heart. Many also believe that simply by meditation alone they are doing more good for the world than otherwise they could. No doubt, if they were God-realised Masters that might well be so, but even the Masters work unstintingly in service to the world; none more than They.

"Through meditation, one draws on the energies and inspiration of the soul which give life and meaning to the personality expression. Where these are denied their correct outlet in service, a 'damming up' takes place in the personality vehicles—mental, emotional and physical—with unfortunate results. Many of the


neuroses and other illnesses of aspirants and disciples stem from this non-use of soul energy and denial of soul purpose.


"The inner and the outer focus must be balanced, and a start made on the Infinite Way, the way of service".


(Maitreya's Mission Vol. I, 3rd Ed. p311-312; by Benjamin Creme)

http://www.shareintl.org/archives/meditation/bc_meditation-service.htm
~~~~
Swami Sivananda: "Do not love leisure. Waste not a minute. Be bold, realize the Truth, here and now!"
"Serve, Love, Give, Purify, Meditate, Realize."
~~~~~


"Without sharing there can be no justice;
without justice there can be no peace;
without peace there can be no future."
Maitreya, The World Teacher
---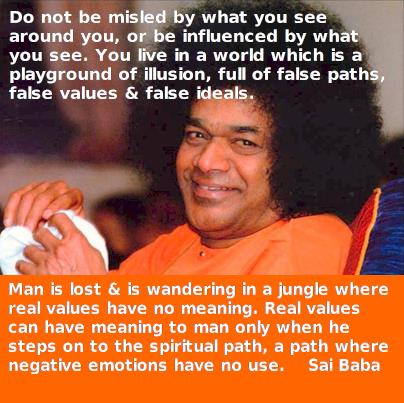 ---
Leaves Of Morya's Garden Book One The Call

Into the New World my first message.

You who gave the Ashram,
And you who gave two lives,
Proclaim.
Builders and warriors, strengthen the steps.
Reader, if you have not grasped — read again,
        after a while.
The predestined is not accidental,
The leaves fall in their time.
And winter is but the harbinger of spring.
All is revealed; all is attainable.
I will cover you with My shield,
        if you but tend to your labors.
I have spoken. 

--- The Agni Yoga books can be freely downloaded (available in seven languages):  http://agniyoga.org/index.html
---

There is no salvation surer than that through devotion. One can forgive much where there is unswerving devotion. The man who is devoted in heart can be relied upon. It is cause for rejoicing when Hierarchy is upheld by devotion. At present it is especially needed. If yesterday's confusion seemed enormous, what can one say of tomorrow's? I have already prepared you for the growth of Armageddon, and you know that the black wings of darkness will not withstand the Fiery Sword. Be not astonished, the Battle increases!
Agni Yoga: Fiery World I, 605.
---

---

---

Transmission Meditation Groups
It is the creation, in co-operation with the Hierarchy of Masters, of a vortex or pool of higher energy for the benefit of humanity. There are more than 600 Transmission groups in 40 countries worldwide meeting on a regular basis. You may join an existing group in your area, or form your own group by simply inviting a few interested friends to meet with you at least once a week. All you need is the intention to do so and the desire to serve. There is never any fee to participate. http://www.transmissionmeditation.org

Collection of free downloadable & online books
The Ageless Wisdom & Other Esoteric topics
http://www.mindlight.info/freebooks.htm

www.biblioteca-ga.info
An excellent online catalogue and library documents the stages of return to the modern world of Maitreya & the Masters of Wisdom. An ongoing process for which some have been preparing humanity since 1875.

Collection of articles by Aart Jurriaanse
He wrote some compilations from Alice A. Bailey's books along with commentaries on those teachings. His work has helped many students of the Ancient Wisdom Teachings.

Agni Yoga Teachings (all the books in seven languages can be downloaded at www.agniyoga.org)

Agni Yoga Teachings regarding sex
If we compare two individuals, of whom one dissipates the vital substance while the other consciously conserves it, we will be amazed at how much more sensitive the spiritual apparatus of the second becomes. The quality of his labors becomes entirely different, and the quantity of his projects and ideas multiplies. The centers of the solar plexus and brain are being heated, as it were, by an invisible fire.

Esoteric Training


http://www.lucistrust.org/en/arcane_school/introduction/esoteric_training
This article was dictated by the Tibetan teacher, Djwhal Khul, in 1934. It is printed in the book, The Externalisation of the Hierarchy, pp. 3-20, published by the Lucis Publishing Company. The need for trained esotericists is more urgent today than it was then.

The Alice Bailey books were published by Lucis Trust and can be purchased directly from them, or from fine bookstores everywhere: http://www.lucistrust.org

---

Lucis Trust has a ~new 14-page introductory PDF booklet about the 3 major full festivals

PDF with US meeting dates http://www.lucistrust.org/en/content/download/46659/602181/file/3SF%202015%20booklet-NY.pdf

PDF with UK meeting dates http://www.lucistrust.org/en/content/download/46620/601601/file/Three%20Spiritual%20Festivals%202015%20booklet.pdf

http://www.lucistrust.org/en/meetings_and_events/three_major_spiritual_festivals
---
More Links